A few months ago I stumbled across the website
TheDonnasMedia.com
. The site has a massive collection of the band's full-length concerts from around the world in audio and video formats. Even commercials and media appearances are available along with custom CD covers with track listings for each concert. All available to be downloaded to your heart's content.
I know what you're thinking, only a matter of time before the band's lawyers come calling, waving 'cease and desist' orders at the site's owners, right? Guess again.
A little digging revealed that the band is not only aware of the site, but they openly ENCOURAGE everyone to download their music from TheDonnasMedia, and also ENCOURAGE their existing fans to upload any unreleased music from the band that isn't already on the site.
Sounds like a great example of
empowering your communit
y. Color me intrigued.
Intrigued enough to contact
The Donnas
' manager, Molly Neuman. Ms. Neuman was kind enough to answer a few questions for me and better explain the band's marketing strategy of growing their community of fans, by giving their music away.
TVG: I noticed on TheDonnasMedia.com, that the band makes it very easy for listeners to download and share their music. Was it a conscious choice by the band to try to grow their fanbase by making their music more freely available?
Molly Neuman: Yes and it also speaks to the indie roots that we come from. We want our fans to get into the music and also support us by buying our records. We trust that our fans won't abuse the availability and that makes for a great relationship.
TVG: On
The Donnas' MySpace page
, the band frequently rotates songs in their player based on reader suggestions, and sends out constant bulletins and even the occasional blog post on their page. How important do you think it is for an artist to use the internet to interact with their fans?
MN: We think it's crucial and it also keeps the band motivated and connected to how their music connects with others.
TVG: It looks like music labels are trying to find a way that they can distribute their artists' music videos via YouTube. As podcasting continues to grow in popularity, do you think we might see labels lend their music to podcasters either freely or through an ad-revenue sharing model in the next few years?
MN: I think it really depends on the label and the vision of the person in charge but I think that as we're all trying to reach as many fans as possible and we have to be more and more creative.
TVG: Finally, there are so many ways for artists to get their music in the hands of their fans today(Digital online sales, ringtones, CDs, etc). Two years from now in 2008, what do you think will be the most effective distribution channel for The Donnas to get their music to their fans, and what area should we as marketers look to for the most growth in the next two years?
MN: Well we've always had a combination of means for reaching fans, via movies and soundtracks, TV, radio, press, touring and retail. I expect the ratios of importance of these means will change but they will all still be in place. I'm not sure which is the most important or which will be but we should remain vigilant on all fronts.
Thanks again to Ms. Neuman for her time. If you want to sample some of The Donnas' music, all you could ever want is available for free at
TheDonnasMedia.com
(
this concert
is my fav). Ms. Neuman co-founded
Lookout! Records
(The Donnas, Green Day, Pretty Girls Make Graves), and her current project is the new label
Simple Social Graces Disco
.
Pic via
The Donnas MySpace page
.

posted by Mack Collier @ 8:17 AM, , View blog reactions


Here's the standings for Week 23:
1 -
Seth's Blog
- 5,350 (LW - 1)(+51)
2 -
Gaping Void
- 17,338 (LW - 2)(-678)
3 -
Duct Tape Marketing
- 17,928 (LW - 3)(-41)
4 -
Creating Passionate Users
- 20,543 (LW - 4)(+308)
5 -
Marketing Shift
- 36,892 (LW - 5)(+125)
6 -
Daily Fix
- 47,273 (LW - 7)(+4,226)
7 -
Coolzor
- 51,150 (LW - 6)(+155)
8 -
Church of the Customer
- 62,637 (LW - 8)(-2,437)
9 -
HorsePigCow
- 63,545 (LW - 9)(-1,379)
10 -
The Viral Garden
- 73,453 (LW - 10)(+2,274)
11 -
What's Next
- 91,776 (LW - 11)(-4,086)
12 -
Brand Autopsy
- 96,255 (LW - 12)(-2,186)
13 -
Emergence Marketing
- 102,605 (LW - 13)(-4,490)
14 -
New School of Network Marketing
- 103,327 (LW - 14)(+5,898)
15 -
Logic + Emotion
- 109,465 (LW - 16)(+7,558)
16 -
Converstations
- 112,066 (LW - 15)(-513)
17 -
Experience Curve
- 115,229 (LW - 17)(+4,759)
18 -
Jaffe Juice
- 140,619 (LW - 18)(-10,153)
19 -
Marketing Nirvana
- 143,864 (LW - 19)(+4,444)
20 -
Diva Marketing
- 168,415 (LW - 20)(-5,721)
21 -
Marketallica
- 209,906 (LW - 22)(+1,840)
22 -
Brains on Fire
- 213,568 (LW - 24)(+5,770)
23 -
Pro Hip-Hip - Hip-Hop Marketing
- 217,867 (LW- 23)(+344)
24 -
Beyond Madison Avenue
- 227,763 (LW - 21)(-22,763)
25 -
Movie Marketing Madness
- 241,211 (LW - 25)(+346)
Fairly quiet week on the Top 25 front. The biggest move was Daily Fix edging past CoolZ0r to #6. Marketing Shift continues to inch upward. Outside the Top 10, New School, Logic + Emotion, and Experience Curve all had solid weeks yet again. The biggest move in rank was by Brains on Fire, which jumped up 2 spots to #22, and appears to be poised to crack the Top 20 next month.
Next update is next Wednesday.

posted by Mack Collier @ 6:57 PM, , View blog reactions


Thanks to David Armano of
Logic + Emotion
, for creating a great logo for the Top 25 Marketing Blogs. Pretty cool huh? If you're in the Top 25 and want to add the logo to your blog (and why wouldn't you?!?), just copy and save a copy for yourself! I've already added mine to my sidebar.

posted by Mack Collier @ 10:34 PM, , View blog reactions


My latest post is up
at Daily Fix
, and it covers a great community empowerment
program
that the New Jersey Nets have created to boost season-ticket packages. It goes to the heart of the marketing concept of rewarding your evangelists for activities they are already engaging in.
Also, my first feature article is up at
Marketing Profs
. entitled "
Five Real-World Ways Businesses Are Marketing to Their Communities
". The article talks about how several companies have embraced and empowered their communities, including Fiskars, Maker's Mark, Mozilla, Threadless, and New Line Cinemas. The article also gives businesses tips on how they can create and cultivate their own group of evangelists and make them their marketing partners in the community. You need to be an MP subscriber to read it.
Additionally, I have begun writing/editing for
Marketing Vox
. MV is one of the most respected marketing news sites on the internet, and it brings you all the marketing and advertising news you need every day. Tig and Vahe have been great about getting me acclimated to the process, so check out the Vox if you get a chance!
Also, I want to say thanks to
Alice
and Ben for adding The Viral Garden to their favorite blogs. If you'd like to add the Garden, please click on the link below, and thanks!
PS: Thanks to
Lolly
and
Miss Biz
for the link-love!

posted by Mack Collier @ 8:33 AM, , View blog reactions


Here's the standings for Week 22:
1 -
Seth's Blog
- 5,401 (LW - 1)(+99)
2 -
Gaping Void
- 16,660 (LW - 2)(+503)
3 -
Duct Tape Marketing
- 17,887 (LW - 3)(+310)
4 -
Creating Passionate Users
- 20,851 (LW - 4)(-1,340)
5 -
Marketing Shift
- 37,017 (LW - 5)(+3,070)
6 -
Coolzor
- 51,305 (LW - 6)(+1,063)
7 -
Daily Fix
- 51,499 (LW - 7)(+6,757)
8 -
Church of the Customer
- 60,200 (LW - 9)(-180)
9 -
HorsePigCow
- 62,166 (LW - 8)(-2,246)
10 -
The Viral Garden
- 75,727 (LW - 10)(-1,637)
11 -
What's Next
- 87,690 (LW - 11)(-917)
12 -
Brand Autopsy
- 94,069 (LW - 12)(-2,050)
13 -
Emergence Marketing
- 98,115 (LW - 13)(+4,651)
14 -
New School of Network Marketing
- 109,225 (LW - 14)(+2,857)
15 -
Converstations
- 111,553 (LW - UR)
16 -
Logic + Emotion
- 117,023 (LW - 15)(-624)
17 -
Experience Curve
- 119,988 (LW - 17)(+10,715)
18 -
Jaffe Juice
- 130,466 (LW - 16)(-9,495)
19 -
Marketing Nirvana
- 148,308 (LW - 19)(+5,097)
20 -
Diva Marketing
- 162,694 (LW - 18)(-23,964)
21 -
Beyond Madison Avenue
- 204,990 (LW - 22)(+3,010)
22 -
Marketallica
- 211,746 (LW - 20)(-21,071)
23 -
Pro Hip-Hip - Hip-Hop Marketing
- 218,211 (LW- 21)(-17,201)
24 -
Brains on Fire
- 219,338 (LW - 23)(+10,523)
25 -
Movie Marketing Madness
- 241,557 (LW - 24)(+3,548)
Strong week for the Top 10, especially the Top 7. Marketing Shift had another big week, and is solidly in the Top 5 now. Coolzor and Daily Fix are now literally neck and neck at #6 and #7.
Outside the Top 10, Experience Curve had another strong week and could make a run at the Top 10 soon. Marketing Nirvana and Brains on Fire also had solid moves. Converstations debuts at #15, a very strong showing for Mike.
Next update is next Wednesday.

posted by Mack Collier @ 5:04 PM, , View blog reactions


From Sunday's issue of
The Observer
, concerning Rupert Murdoch's future plans for MySpace:
On Tuesday his lieutenant, Peter Chernin, began to make threatening noises about the way Myspace users are allowed to import feeds from other sites, such as YouTube and Flickr, thereby driving web traffic their way. 'Almost all of them are really driven off the back of Myspace,' he said. 'There's no reason why we can't build a parallel business. Given that most of their traffic comes from us, if we build adequate, if not superior, competitors, I think we ought to be able to match them, if not exceed them.'

If you wanted a statement encapsulating why Big Media still doesn't understand the internet, you couldn't do better than that. The lesson of Web 2.0 is that the whole (of a number of independent, autonomous services) winds up being greater than the sum of its parts. If Murdoch fails to get this, Myspace will wither before his eyes.
2 schools of thought here:
1 - Companies such as YouTube and Flickr need to be paying MySpace for the 'free exposure' that they are getting on the social-networking site, and for all the traffic that MySpace is sending their way. If they won't, MySpace needs to ban their feeds and create their own version of the services.
2 - By allowing users to add YouTube and Flickr feeds to their MySpace pages, you are creating a more enjoyable experience for them on MySpace, which means they will be more likely to stay longer, and to tell others to check out the site.
Again, do you put the wants and needs of the customer first, or your own? Will you make more money by attempting to control your customers, or by attempting to empower them to create and enjoy their own experience?
Pic via Flickr user
Grace :)

posted by Mack Collier @ 9:21 AM, , View blog reactions


Last week when I left my
post on Daily Fix
about Terry McBride's unique marketing philosophy of community-empowerment at
Nettwerk
,
CK
had the great suggestion in the comments that I should send the post to some music publications. Proving that great minds think alike, I was thinking along the same lines, but I wanted to bring the post to the attention of Terry himself.
So I did some digging on MySpace, found that
he had a page
, and send a 'friend request' to him to add me to his friends. Terry added me within an hour, which is pretty fast. I then let him know about the post I had written about him on DF, and he quickly thanked me. My thinking was that he would go leave a short comment on the DF post, which would of course elicit a very positive response from the DF community. Honestly, I would have liked Terry to read my post and like it from an ego-standpoint, but really I wanted Terry to respond on DF because I knew it would be great exposure for Nettwerk in the DF community, and the flipside is that it would be great for Ann and DF to get feedback from one of the more progressive CEOs in the world.
But it never happened.
Now at first I thought 'Well he IS extremely busy and I'm just lucky that he even answered me on MySpace, most CEOs would have NEVER done that'. But then I realized that my love of Nettwerk as a label was probably clouding my judgment a bit, because if another company had missed a golden opportunity to reach out to their community like this, I would have called them on it.
So to Terry McBride, Erin Kinghorn, and all the other great people at Nettwerk, I still love you guys, but you blew it here.
I get that Terry is extremely busy, but a quick 'Hey guys, thanks for the kind words!' comment on DF would have taken 60 seconds tops, and gotten Terry a TON of positive pub in the blogosphere. Remember
the
'Miami Vice episode'
?
I also sent Terry a link to my
100 CDs For 100 Bloggers
idea, and from what I could tell from my SiteMeter referrals, he didn't take the time to check that out either.
Again, I am tempted to cut Terry a ton of slack because Nettwerk really has gone far beyond their competitors in reaching out to their fans. Terry now makes SIX Nettwerk employees that have contacted me this year.
But at the same time, this was a golden opportunity for Terry to reach out to bloggers and really create a snowball of positive exposure for Nettwerk much the same way that Universal did earlier this summer by contacting
Chris
about Miami Vice. The good news is that I have a feeling that Nettwerk will listen, and learn from this.
UPDATE: Terry responds in the comments. Good for him, and good for Nettwerk.

posted by Mack Collier @ 8:16 AM, , View blog reactions


Every week I do the
Top 25 Advertising Blogs countdown for BMA
, and every week I check to see if
Ernie Schenck Calls This Advertising?
has a high enough Alexa score to make the cut. This week it was the same as every other week for Ernie.
He wasn't even close.
And I guess that means that his blog doesn't get much traffic, and I guess that's because he only posts a few times a month. And according to many of the 'blogging experts', I guess that adds up to a blog that isn't very good.
But that's just it, Ernie's blog IS good....VERY good.
Ernie's posted 9 times since the start of last month, and just twice this month. But here's the money stat: He's gotten a total of 86 comments on those 9 posts. And many of these comments are coming from the same community of bloggers. From his Alexa scores, it's pretty safe to say that it wouldn't be too hard to have more traffic than Ernie gets to his blog. But you'll be hard pressed to get 9 comments per blog post like he does.
Once a week or so, I will hear a blogger ask 'How do I get more traffic to my blog?'. Are you sure that's what you want?
David said I was obsessed with community
. One of the highest compliments I've been paid in the last year(Although I also like
CK's
observation that healthy obsession is also known as 'passion'). But I think in order to truly get the most you can out of blogging, you HAVE to put community at a priority over traffic. Traffic consists of numbers on SiteMeter. Community consists of people. I like traffic, but I am passionate about community.
Always go with your passion.

posted by Mack Collier @ 6:44 PM, , View blog reactions


Here's the standings for Week 21:
1 -
Seth's Blog
- 5,500 (LW - 1)(-401)
2 -
Gaping Void
- 17,163 (LW - 2)(+344)
3 -
Duct Tape Marketing
- 18,197 (LW - 3)(+82)
4 -
Creating Passionate Users
- 20,717 (LW - 4)(+355)
5 -
Marketing Shift
- 40,087 (LW - 5)(+5,631)
6 -
Coolzor
- 52,368 (LW - 7)(+658)
7 -
Daily Fix
- 58,256 (LW - 9)(+7,852)
8 -
HorsePigCow
- 59,920 (LW - 6)(-6,982)
9 -
Church of the Customer
- 60,020 (LW - 8)(-114)
10 -
The Viral Garden
- 74,090 (LW - 10)(-1,477)
11 -
What's Next
- 86,773 (LW - 11)(+1,953)
12 -
Brand Autopsy
- 92,019 (LW - 12)(+842)
13 -
Emergence Marketing
- 93,464 (LW - 13)(+3,544)
14 -
New School of Network Marketing
- 112,082 (LW - 16)(+7,858)
15 -
Logic + Emotion
- 116,399 (LW - 14)(-6,243)
16 -
Jaffe Juice
- 120,971 (LW - 15)(-8,212)
17 -
Experience Curve
- 130,703 (LW - 18)(+6,888)
18 -
Diva Marketing
- 138,730 (LW - 17)(-14,843)
19 -
Marketing Nirvana
- 153,405 (LW - 19)(+2,007)
20 -
Marketallica
- 190,675 (LW - 20)(-12,228)
21 -
Pro Hip-Hip - Hip-Hop Marketing
- 200,999 (LW- 22)(+4,318)
22 -
Beyond Madison Avenue
- 208,000 (LW - 21)(-13,776)
23 -
Brains on Fire
- 229,861 (LW - 23)(+10,842)
24 -
Movie Marketing Madness
- 245,105 (LW - 24)(+12,291)
25 -
Studio UES
- 267,208 (LW - UR)
Since the inception of the Top 25, Marketing Shift and HorsePigCow have been running neck and neck at 5 and 6. But this week the 2 blogs broke in opposite directions, and now Marketing Shift looks like it might be poised to make a run at the Top 4, while HPC drops 2 notches to #8, and barely missed slipping to #9. Not a big deal, but it does go to show how competitive the Top 25 has become. Daily Fix leapfrogs to #7, and it will set up a close battle between DF and Coolz0r for the #6 spot next week.
Outside the Top 10, New School, EC, Brains on Fire, and MMM all had big weeks. And congrats to Studio UES for barely making the Top 25. By my count, that means 11 members of The Viral Community are now in the Top 25.
Next update is next Wednesday.

posted by Mack Collier @ 12:16 AM, , View blog reactions


My
latest post is up at Daily Fix
, focusing on Terry McBride's unique marketing philosophy and views on the music industry. As part of that post, I also referenced the interview I did with Nettwerk's Marketing Director, Erin Kinghorn,
for BMA back in January
. Since I've mentioned that interview several times here as well, I wanted to go ahead and repost it here, so everyone could read it.
But first, I wanted to tell an interesting backstory to the interview. A month or so before posting this interview, I had finished a 2-part series on how music labels were marketing the so-called 'female rocker'. I touched on how during the late 1990s, artists such as Sheryl Crow, Jewel, and Sarah McLachlan were among the top stars in the business, but since that time, labels had struggled to keep the so-called 'female rocker' relevant. A week or so after posting the series, I decided what the hell, I'll contact some labels and see if I can get a label's perspective on the marketing shift for these artists.
To be honest, I wanted to talk to someone from Atlantic first. After that didn't pan out, I turned to A&M. Still nothing. Then I started contacting the management for individual artists; Tori Amos, Alanis Morrissette, Fleming McWilliams of Fleming and John. Not even an email reply telling me to go to hell.
On the verge of throwing in the towel, I send an email to Erin Kinghorn. Over the course of the next month, FIVE different employees from Nettwerk, including Erin, contacted me at every stage of the interview process to make sure it was concluded as I wanted. After contacting several labels and artists and not even getting an email reply acknowledging my existance, Erin agreed to the interview within hours of my first email, and several people with the company went out of their way to make sure that the interivew happened. Their reaching out to a blogger's request in such a manner would have been impressive enough by itself, but was magnified by the total lack of response that I received from the other labels and artists that I contacted.
And I think this is simply another example of how in-touch the label is with their community. That one interview 8 months ago definitely helped BMA more than Nettwerk. But their response made an impression on me, and I went out of my way from that point forward, to find stories to blog about that involved the label and their artists. Over time, as BMA grew, and now as I am blogging about Nettwerk here and now on Daily Fix, the benefit to the label from one interview with one tiny blogger 8 months ago, starts to become clearer.
So without further pontificating, here is the interview that I conducted with Erin back in January:
Last month I wrote a 2-part series on how many record labels are scaling back their marketing efforts for the so-called 'female rocker'. (You can read the Women in Rock series
here
and
here
) However,
Nettwerk
is the exception to this trend, as they not only promote female artists, the label does so actively. While competitors are shying away from signing a female artist whose last name isn't Spears or Simpson, Nettwerk has assembled one of the most impressive rosters of female artists and bands in the music industry.
Sarah McLachlan
,
Avril Lavigne
,
Dido
,
Tara MacLean
,
The Be Good Tanyas
,
Hem
,
Sixpence None the Richer
and
Chantal Kreviazuk
, are just a few of the female artists and bands that call Nettwerk home.
Nettwerk is openly bucking an industry-wide trend, and doing so successfully. I had to find out what their secret was. I contacted Erin Kinghorn, the Director of Sales and Marketing at Nettwerk, and Ms. Kinghorn was gracious enough to give invaluable insight into how one of the world's most successful music labels market their artists.
BMA - Many record labels are reluctant to promote the so-called 'female rocker', yet Nettwerk seems to be the obvious exception to this trend. When it comes to promoting female artists, why has Nettwerk been more successful than many of its competitors?
EK - Well I don't think you can really say that we are promoting our female artists any differently than our male artists. For all our artists, we let them develop into what they want to be. If you want to look at Sarah, she's always stayed true to herself, and stayed true to her music. We've never tried to control any of our artists. We've allowed them to develop organically and develop their following that way.
As for our success with the female "rocker", I think the success we had at the time with Lilith Fair, alot of these issues about women in the music industry were being brought up and discussed. Lilith put to a voice to the issues at that time, one being that women were always being told that they couldn't be on a bill together. By putting together a tour that focused on female artists and having that tour become successful allowed for people to turn around and state "there is an audience out there who want to hear women musicians and it can be successful".
BMA - So it's a matter of 'the artists know what they need to do, leave them alone and let them take their own course with it'?
EK - Right. It's a matter of helping the artist, and guiding their career, instead of running their career. And also, looking at it as a career, and not as needing to put out a hit record. We're in the business of developing artists, we're not in the business of creating artists for revenue.
BMA - I read an interview recently with one of your artists, and they mentioned that Nettwerk really looks at the business from the artists' point of view. The example they used was that Nettwerk is smart enough to realize that you can't do a 7 am radio interview, and expect to have a voice left for a concert that night.
EK - That's really true. We sit down with the artists and figure out what's going to work best for them. That's one of the core philosophies of the company, we are really artist-friendly. We know that we can't burnout these people, because we work for them, we are their employees. And that's a little bit of a shift in the traditional industry thinking, that they don't work for us, we work for them.
BMA - Why do you think your competitors aren't looking at the success Nettwerk is having with acts like Sarah McLachlan and Avril Lavigne, and saying 'We need to be doing this too'?
EK – I think that they are trying to find female artists and develop them, but really they'd need to change all aspects of their company from the top down, and most labels aren't able to do that right now.
BMA - So basically you're saying that they would have to change their entire culture?
EK – Yes, they would have to change their corporate culture, and I think that's something we are going to see in the next 5 years. That is, the major labels, and the indies, seeing that the way we do business on all levels, and the way we approach the artists, is going to be changing. I think over the next 5 years you're going to see a new generation taking higher positions in these companies, and that's when things will start changing, including the way they approach the artists, and music in general.
BMA – Let's talk about Sarah McLachlan for a minute. From Lilith Fair to her
incredible video for World On Fire
(nominated for a
2006 Grammy for Best Short Form Video
), it seems she has always used her music as a tool to help others.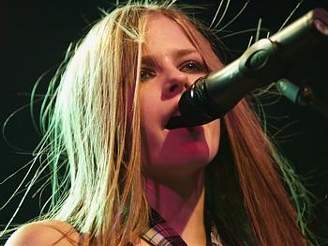 EK – Yes, and this is another example of going back to the corporate culture at Nettwerk. Terry (McBride, Nettwerk CEO) and the rest of the managers try to instill a sense of giving back in all our artists, and Sarah has always done this. From the beginning of Lilth Fair and donating a dollar a ticket to a local charity in each city, to the message of "World on Fire". When Sarah decided to do World on Fire, the video took my breath away. It was so amazing to see what she could do with such a small music video budget in this day and age, but you see how many people she was able to help with it. That was absolutely outstanding.
Other examples are the
charity work that Avril is doing
,
Sum 41
going
to the Congo
and
shooting a special for War Child
, the charity work that
Barenaked Ladies
do, there is that sense of having to give back, being a part of the global community. The owners of Nettwerk give back themselves, and they always instilled in us that that's the way to do it.
BMA - And I think the way Sarah presented the video for World on Fire really brought home her point, that you could spend this much money to buy this much time with a producer, or you could spend that same amount to build 5 schoolhouses in Africa.
EK - Exactly.
BMA - I noticed that Barenaked Ladies recently released
Barenaked On
a Stick
, a 128 MB USB stick that included BNL's Barenaked for the Holidays album, as well as other live tracks, and extra goodies. How has the reaction been to this offering, and is Nettwerk looking to distribute future releases from their artists via this format?
EK - Barenaked on a Stick was a concept that was brought up during a meeting last year, our sales manager from the U.S., John Meadows, told us about the concept and told us 'Hey we should try to do this!'. We developed it as a testrun and sold it out of
Werkshop
(our mailorder company), and on the road. And it took off, it's a way of using different technology, and there are so many different mediums out there that you are able to use to put your artists' music in the hands of the customer. We are definitely going to use this format with other artists. So far we are looking at newer technologies and trying to figure out how to incorporate that into our marketing and distribution as well.
BMA - And that will lead into my last question, we all know how big MySpace has become, what do you think will be the next big trend as far as how musicians will put their music out in front of the people?
EK - There's so many different things that musicians can do right now. You do have MySpace, I think people are heading more toward Craigslist, there are some opportunities there. I think podcasting is going to become big over the next year or so, it's going to be interesting to see what happens there. You also have ringtones, and you're going to have more cell phones with MP3 players. There's going to be so many opportunities I think musicians are going to have to figure out the most cost-effective way to reach their audience. And I think there's also the music blogs, and the power of blogging is going to be something to watch. This is a new form of media and they are really musical communities that have great readership.
In a time when we are seeing so many instances of record labels, and the recording industry itself putting profits ahead of everything else, including their artists and their customers, Nettwerk is the perfect example of how it should be done. They work FOR their artists, and they aren't worried about putting out a hit record, as much as they are making sure their artists are having successful careers. In short, Nettwerk gets it. There's so much that we can find wrong in the recording industry today, but we need to support the few labels like Nettwerk that are doing it the right way. If for no other reason than to send a message to other labels that they need to shape up and get their business priorities straight if they want to survive.
Because Nettwerk will not only survive, they will no doubt continue to thrive. Thanks again to Ms. Kinghorn for giving us an incredible look into the inner-workings of a truly revolutionary record label.

posted by Mack Collier @ 9:32 AM, , View blog reactions


This is what happens when a company that isn't familiar with blogging, decides to join the blogosphere. A couple of months ago, McDonalds started a corporate blog, entitled
'Open For Discussion'
, but some bloggers are claiming that the company's actions are not open for discussion on the blog. McDonalds partnership with GM earlier this summer to put toy Hummers in their Happy Meals has come under fire from
the media
and
environmental groups
.
McDonalds decided to address this controversy last week on their blog, and left a post which has ruffled a few feathers in the blogosphere, particularly this quote: "Looked at through children's eyes, the miniature Hummers are just toys, not vehicle recommendations or a source of consumer messages about natural resource conservation, greenhouse gas emissions, etc.". Among the bloggers outraged by the post were Matt Fried, who voiced his displeasure over McDonald's stance on their blog last week in the comments section for this post.
But now Fried has a new reason to be upset.
On Thursday
, he posted on his blog that he was still waiting for his comment to show up on the McDonalds blog. As of this writing, that post still has no comments.
Of course, that doesn't prove anything. But given that this is such a hot-button issue right now, the fact that there are NO comments showing up on the McDonalds blog at least suggests to me that McDonalds is very slow in approving comments left on their blog.
But what if McDonalds really is censoring comments on their blog? Jackie at Church of the Customer
adds
: "it appears McDonald's feels more comfortable in controlling the conversation than engaging in one.".
Of course, McDonalds can't control the conversation. Sure they can choose to censor comments on their own blog, if that's what they are doing, but doing so won't stop the conversation, it will simply move it to other blogs. This is why companies need to understand any type of social media before they start using it. If someone at McDonalds said 'Hey I know....if we get some negative comments about the Hummer Happy Meal promotion, we can just delete them and that way no one will talk about it!', then someone working with them that DID understand the blogosphere could add 'Oh bloggers will definitely talk about it, just on their blogs, not yours.'.
So to any companies out there that are thinking that they can join the blogosphere, but on THEIR terms, you can't. The rules of the community apply, and if you can't accept these rules, then you'd do best to stay out.

posted by Mack Collier @ 9:57 AM, , View blog reactions


I think I see a trend developing here. Every time the RIAA comes out with a new way to pursue litigation against its own fans, Nettwerk seems to respond with another vehicle for giving their artists' music to their fans as effectively and cheaply as possible. The latest move by the Canadian music label is a partnership with Mercora, a Silicon Valley-based company that bills itself as "
the world's largest social radio network.
"
The move will allow
Mercora
to feature Nettwerk's artists, such as
Sarah McLachlan
,
Avril Lavigne
, and
The Barenaked Ladies
, on their homepage, giving visitors to the site the chance to listen to music from these artists, for free. But here is the quote that caught my eye, from Nettwerk president Ric Arboit, speaking about how digital sales of music have affected Nettwerk: "It's 40 to 50 percent of our business right now, and it has been for the last three years".
So half of Nettwerk's business is coming from selling music over the internet, yet Nettwerk continues to pursue avenues that allow them to give music to their fans for free. Is there a connection? Here's what Nettwerk CEO Terry McBride has to say at the website for
Save the Music Fan
:
The passionate message of music is in the magic of the "song." The more it's consumed, the more it nourishes. Music is ubiquitous; it's a utility like "water," it's not a pair of pants and as such we need to stop treating music like a product that needs to be controlled.
Again, when your community of customers are using/enjoying your product, you do everything you can to encourage that activity, and find ways to make it easier and more efficient for your community to engage in this behavior.
Now if they could just create a widget that would let bloggers sell their artists' music on their blogs. Hmmm....maybe I should call
Erin Kinghorn
?

posted by Mack Collier @ 9:12 AM, , View blog reactions


Here's the standings for Week 20:
1 -
Seth's Blog
- 5,099 (LW - 1)(-25)
2 -
Gaping Void
- 17,507 (LW - 2)(-10)
3 -
Duct Tape Marketing
- 18,279 (LW - 3)(+111)
4 -
Creating Passionate Users
- 21,072 (LW - 4)(-193)
5 -
Marketing Shift
- 45,718 (LW - 5)(+167)
6 -
HorsePigCow
- 52,938 (LW - 6)(+177)
7 -
Coolzor
- 53,026 (LW - 8)(+12,270)
8 -
Church of the Customer
- 59,906 (LW - 7)(+41)
9 -
Daily Fix
- 66,108 (LW - 9)(+1,299)
10 -
The Viral Garden
- 72,613 (LW - 10)(-758)
11 -
What's Next
- 88,726 (LW - 11)(-1,836)
12 -
Brand Autopsy
- 92,861 (LW - 12)(-401)
13 -
Emergence Marketing
- 97,008 (LW - 13)(-565)
14 -
Logic + Emotion
- 110,156 (LW - 15)(+2,407)
15 -
Jaffe Juice
- 112,759 (LW - 14)(-2,740)
16 -
New School of Network Marketing
- 119,940 (LW - 17)(+2,953)
17 -
Diva Marketing
- 123,887 (LW - 16)(-3,159)
18 -
Experience Curve
- 137,591 (LW - 18)(+10,360)
19 -
Marketing Nirvana
- 155,412 (LW - 19)(+5,845)
20 -
Marketallica
- 178,447 (LW - 20)(-7,253)
21 -
Beyond Madison Avenue
- 194,224 (LW - 21)(-10,170)
22 -
Pro Hip-Hip - Hip-Hop Marketing
- 205,317 (LW- 22)(-6,675)
23 -
Brains on Fire
- 240,703 (LW - 24)(+18,072)
24 -
Movie Marketing Madness
- 257,396 (LW - 25)(+2,241)
25 -
What's Your Brand Mantra
? - 263,308 (LW - 23)(-13,428)
As you can see, Alexa again updated on Weds, instead of the usual Thurs and Sun. As a result, I'm going to shift the Top 25 list to be updated each Weds., at least until Alexa changes back to Sun/Thurs, if they do. This week was mostly a continuation of last week, with the same blogs that were hot then, continuing to move upward. CoolZor had a very nice move and almost clipped Tara to move up to #6. The Top 10 is becoming increasingly contested, with CoolZor, Daily Fix, and Church of the Customer all surging. Logic + Emotion, Experience Curve, and Brains on Fire all enjoyed big weeks yet again.
No new blogs this week, and for the 2nd straight week, Studio UES misses making the Top 25 by a hair, by only around 3,000 spots this week. The surge Tricia continues to enjoy from being featured as one of Blogger's 'Blogs of Note' could push Studio to the Top 25 next week.
Next update is next Wednesday.

posted by Mack Collier @ 1:28 PM, , View blog reactions


A couple of weeks ago, Starbucks gave some of their employees in the Southeast a special email coupon for a free iced coffee, good from August 23 through September 30th. Starbucks instructed their employees to share the email coupon with 'friends and family'.
In a move that everyone except Starbucks saw coming, the email coupon quickly spread far and wide. So far and so wide, that Starbucks decided to
kill the promotion last week
.
Obviously, Starbucks quickly realized that the promotion was spreading much further than they anticipated, and believed that honoring the coupon would result in giving out far more iced coffees than Starbucks had budgetted. How they didn't see this coming a mile off is another question. But in deciding how much honoring this promotion would cost them, I have to wonder if Starbucks considered how their NOT honoring the promotion would affect business?
Customer evangelists for Starbucks will likely 'forgive and forget' when they try to redeem this coupon and are turned away, but new or infrequent customers of the coffee chain will be much less forgiving. In fact, this move will literally empower these rebuked customers to market AGAINST Starbucks. How many people's first experience with Starbucks will be walking into a store with a smile on their face and a coupon for a free coffee in hand, and then being told that the store won't honor the coupon? How many of these people will be mad, mad enough to tell others about the experience? Exactly. I'm not sure what's more unbelievable, that Starbucks couldn't see that the original email would spread like wildfire, or that they couldn't see that news of their NOT honoring the email coupon, would also spread like wildfire.
But the news did spread far and wide, reaching the offices of competitor
Caribou Coffee
.
CC has announced
that they will honor the email coupons, from
noon until 8PM, this Friday
. Yikes. Now even those customer evangelists that might be inclined to overlook Starbucks' snafu, have no reason not to try out one of their competitors.
So the moral for Starbucks and other companies is, you have to not only consider the business cost of not keeping your word, but the ramifications that could arise if a competitor honors the promise that your company would not.

posted by Mack Collier @ 10:56 AM, , View blog reactions


As I'm sure everyone has noticed, I haven't been posting very much on BMA in the past few months. I was one of the original writers that 'founded' BMA around this time last year, and in October of last year, I was made the 'Editor' of the blog. BMA grew like a weed up until around March of this year, when it seemed as if traffic was levelling off(turns out it was just a temporary state), which was just the motivation I needed to go ahead and start my own blog, which was something I had been considering for months.
So in late March, The Viral Garden was born. What I quickly noticed, was that here I was appealing to a more marketing-oriented audience, which was my intention. Thanks to Ann, I was graciously offered the chance to write for
Daily Fix
, which I immediately pounced on. However, I quickly realized that I would have to choose between devoting most of my non-Viral Garden blogging time to either Daily Fix, or Beyond Madison Avenue. Since DF was aimed more at marketers, and Ann was giving me some opportunities that I didn't have with BMA, I shifted most of my free blogging-time to Daily Fix.
So......in order to fill the void that I've created by not posting as much lately on BMA, the 'powers that be' and I have been discussing their next course of action, and we both decided that it would be best to name one of the other writers at BMA the Editor, since I could no longer devote as much time to the blog as I once did. I suggested the writers that I thought could do the best job in this role, and BMA has tabbed
Danny Nathan
to fill this role. I think he will do a fine job. Danny's been with BMA since Day One, like me, and he's seen the changes we've gone through in the last year.
Anyway, the main reason why I wanted to blog this, was to let everyone know that this was a move that both myself and BMA agreed was best for both parties. While I haven't agreed with every idea that the 'powers that be' have in mind for BMA moving forward, there was no disagreement here. BMA got me started blogging, and they deserve someone that can devote the time necessary to grow the blog to its full potential. At the same time, I owe it to myself to realize my full potential as a blogger and marketer, and I feel that can better be done here. I'll still be posting at BMA as long as my account still works there ;)
So check out the 'new'
BMA
and see what you think. It's Danny's baby now, so it will be fun to see where he, Jaynie, True and the other writers take it.

posted by Mack Collier @ 9:56 AM, , View blog reactions


As we all know, I spend entirely too much time obsessing over my traffic stats. Not so much the number of visitors, but I like to see where people are coming from, and what attracts them to check out the Garden.
Today I got a referral from
this site
, which appears to be a newsletter from Clear Channel to its radio stations. It contains marketing information, and references a post that
Jackie made on Church of the Customer
about SoaP that also linked to a post here, which is how the visitor found me.
Here's what the newsletter had to say about how their stations could better market themselves to their listeners:

We've been fascinated by the viral and consumer-created marketing for SoaP, especially the Samuel L. Jackson phone call gimmick (see The New New Trends for Rock and Urban August issues in the archive for details). We especially like Ms. Huba's comments that "When fans embrace your meme, embrace your fans," and "Embracing citizen marketers reduces risk." Perhaps we in radio spend too much time worrying about the people who don't like us rather than those who do. It may be helpful to reach out (as we've suggested in these missives before) to the fans we have and solidify our relationships with them. That doesn't mean, necessarily, that we limit our core definition or tighten our playlists. Rather, we must reach out in a meaningful way to our fans through special (and low-cost) marketing that can be implemented by an unpaid intern. It also means that we need to use those fans to spread the word – as a means to reduce risk. We have fans. We need to find ways to make them more vocal in our favor.
Can anyone else spot the big 'uh-oh' line in the above section?

posted by Mack Collier @ 1:21 PM, , View blog reactions


Studio UES
was recently named one of Blogger's
'Blogs of Note'
. Congrats to Tricia, and a well-deserved honor!
JD at
Musical Ramblings
announces that he'll be starting a podcast soon. Good deal and he should be great at it.
Chris gives his
MMM column for the movie Crank
, and adds this:
I loved getting this package. And not only did I take pictures of everything I got and then put them on Flickr and then my blog, but I was talking to everybody I saw later about it and distributing some of those temporary tattoos. That's what I call enabling word-of-mouth.
Yep. Empower bloggers to more effectively perform pre-existing activities. It works every time.
Paul has a
great post
about marketers putting trust in their customers, so they will trust us. Exactly. Many companies see marketing as a promotional tool, when they should view it as a tool to empower their community members.
CK wants your input
on what the greatest single point of value you've received from blogging. She's already received a ton of comments, and the answers from other bloggers are fascinating as well!
Thanks to
Nettie
for 'blogtipping' The Viral Garden last week at
AllBusiness
!
And finally, an update on The Viral Garden's place in the
Top 100 Most Popular Blogs
. Thanks to Chris (
Branding and Marketing
), Linda(
Exceptional Dental Practice Management
), and Mike(
Mike Stopforth
) adding me to their Technorati Favorites, The Viral Garden is currently #80 in the Top 100. Again, this has completely come from loyal and generous members of The Viral Community, with zero input from the 'A-Listers'. Thanks to everyone, and that updated score is:
The Viral Community: 65
'A-Listers' : 0
If you'd like to join 'The Revolution', please click on the logo below to add The Viral Garden to your favorites, and I'll be happy to link to your blog. Thanks!
UPDATE: Thanks to Kris(
'Cross The Breeze
) for also adding The Viral Garden!

posted by Mack Collier @ 9:01 PM, , View blog reactions